November 2012
Black Friday Sale!!!
Looking for great gift ideas for the hard to buy for? Want to do family photos but want to keep it a surprise for a gift? Can't get everyone together in time to have it ready for the holidays? Then Kurt Nielsen Photography gift certificates is the perfect gift idea, and you can make them any denomination that you want. For One Day Only, on Friday, November 23, 2012, you can take advantage of Kurt Nielsen Photography's Black Friday Sale! Purchase a single gift certificate valued at $100 or more to give as a gift, and you get 10% off of the purchase price! As an added bonus, if your gift certificate is valued at $150 or more, you also will receive a FREE in-studio portrait session! The gift certificates must be gifts that you are giving and may not be used with any other specials, coupons or discounts. The FREE session is for session fees only and does not include prints and must be used by the purchaser of the gift certificate. Kurt Nielsen Photography Gift Certificates are available all year long and are the perfect stocking stuffer!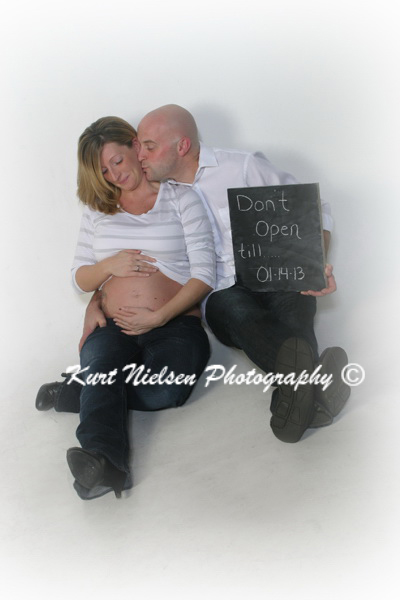 New Year's Baby Contest
Are you or someone that you know expecting around the holidays? Make sure you, and anyone you know who is expecting around New Year's Day, enter my New Year's Baby contest. The baby that is born closest to 12:01 am on New Year's Day will win a FREE in home newborn portrait session AND a high resolution disk of all of the images from the session! Click Here for all of the details and to register!
Christmas Portrait Photographer
The holidays are the perfect time to get everyone together for family portraits, especially if you have family that is from out of town. Family photos and photos of your children also make the perfect gift for grandparents, aunts, uncles and for just about anyone. And who wouldn't want a nice family portrait as the focal point of your holiday decorations! Don't delay, call (419) 885-7153 today to schedule your portrait session with Kurt!
Double your fun with 2
Kurt's Kustom Keepsakes Green Screen Photo Booths
Do you want your wedding, event or holiday party to be remembered for years to come? Kurt's Kustom Keepsakes green screen photo booth can make that happen. Not only will your guests have a blast getting their picture taken, but they can also take home a print as a party favor. Plus, the host gets a disk with all of the photo booth images. We can even make you a scrapbook that your guests can sign and decorate, adding to the fun!

We offer several packages and pricing options to fit any budget! And now, we are proud to announce, we have 2 green screen photo booths! This means, that if one of our photo booth crews is already booked, we have a second crew available to do another event! Be sure to visit my Kurt's Kustom Keepsakes website to see what all the fuss is about and to see previous events! We have thousands of backgrounds to choose from and can even custom make a background specific for your event. Click Here for pricing! Already have your wedding or event photographer? That's not a problem. We have packages that are for the photo booth alone and we have packages that include the amazing photographs of Kurt Nielsen Photography. Call (419) 885-7153 to check for availability and to book your event.

With the addition of the second booth, we still have dates available for this year's holiday season!
Now Booking Weddings and Events for 2013 and Beyond!
Thanksgiving through New Year's is typically the time of year when most couples become engaged. This also means that this is the time of year when many brides and grooms start looking for wedding venues and their other wedding vendors and start hiring their photographers. Because of how many bride and grooms that are planning their weddings, it is a good idea to book your favorites as soon as possible. January is when all of the Toledo area's bridal shows start and the best wedding professionals get booked quickly. Kurt already has several weddings and events booked for 2013 and 2014, so if you are planning a wedding or event, it's a good idea to book Kurt early, before your date is taken! Don't forget, if Kurt is already booked, his Kurt's Kustom Keepsakes green screen photo booth may still be available! Call Kurt at (419) 885-7153 to schedule your FREE wedding consultation!
Personalized Family Photo Cards
Did you know that Kurt offers Custom Greeting Cards? This can be for Christmas, Hanukkah, Birth Announcements, Graduation Announcements, Save the Date cards, or just about anything you can think of. Kurt can use pictures from a new photo session or one you have already had. Call Kurt at (419) 885-7153 for more information and pricing details.
Toledo Pet Photographer
Don't forget your pet for the holidays! Kurt also photographs just about any family pet. Pet portraits are a great way to show your love for your "favorite" non-human family member and make great gift ideas!
Senior Portraits
Kurt is still booking senior portrait sessions for the Class of 2013! Most of the area's high school's yearbook deadlines have already passed but some are still accepting yearbook photos. If you are trying to make your yearbook deadline, please call Kurt at (419) 885-7153 as soon as possible to schedule your senior portrait session! If your school has a designated yearbook photographer, but you want Kurt to take your senior pictures, now is the best time to do that. Don't forget, Kurt keeps everything on file and if you need to order reprints or graduation invitations, now would be the perfect time to get those ordered. If you are from the Class of 2014, keep watching this website and our Facebook Fan Page for an announcement on how to become a Senior Ambassador for Kurt Nielsen Photography for your school. Kurt will begin taking applications starting in January. It's an easy way to save money on your senior pictures!
Make A Wish CD: Holiday Wishes 2
Just in time for the holidays! Holiday Wishes 2 will be in Panera Bread stores beginning November 23, 2012. The CD features 44 tracks from local musicians and is only $15. All proceeds benefit the Make A Wish Foundation's Ohio, Kentucky and Indiana Chapter. Keep watching my website and Toledo Free Press for details on the upcoming CD Release party that also benefits the local Make A Wish chapter.
Baby My Baby Plan
Looking for the perfect baby shower gift or gift for the newborn? Kurt's Baby My Baby plan has everything you are looking for at an affordable price. This plan covers all of the portrait sessions for the new bundle of joy's first year of life. Kurt's Baby My Baby package includes sessions to be taken at 3 months, 6 months, 9 months and their first birthday. At least one session must be a family photo session, but parents are encouraged to be in a few photos from each session. Plus, if you purchase the package before the baby arrives, the maternity session is FREE. A 10% discount is given for all purchases from each portrait session, and a CD slide show set to music is given for each session. If a portrait package is purchased from each session, you will also receive a FREE custom storyboard print with your favorite photo from each session. Ask Kurt about including a newborn portrait session!
Kurt Nielsen Photography
(419) 885-7153
Hours of Operation:
Monday 10am - 5pm
Tuesday 10am -5pm
Wednesday - closed
Thursday 10am - 5pm
Friday 10am -5pm
Saturday - closed
Sunday - closed
Weekend and Evening hours available by appointment only.
Kurt does everything by appointment only, so even though these are his posted hours, please call in advance to be sure someone is actually in the office when you get there because he may be out of the office or on location.
Follow Kurt Nielsen Photography on Pinterest
Are you on Pinterest? Kurt is also! Follow his boards for great tips and decorating ideas, photo displays, food and drinks, fashion and so much more!! There is even a customer appreciation board where you can add your business info and websites! Just let Kurt know you want to be on his customer board and he will add you so you can post your business info. Be sure to follow Kurt's boards, just click the Pinterest link above, and he will follow you back. Happy Pinning!
Connect with me on Social Media
Do you use social media? Kurt Nielsen Photography does! Be sure to find Kurt Nielsen Photography on the social media site you use most. You never know what specials or giveaways might be on there exclusively for those who follow Kurt socially. If there is a social site that you like that Kurt is not on, please let us know!

Kurt loves social media. However, he is not on as often as he would like to be because of his busy schedule. If he is not photographing, he is editing or busy with other aspects of his business. Kurt loves when you comment or "like" his posts but may not respond right away or may not always see your posts and comments. Kurt tries to keep up with his messages but may not always give a prompt response. Because Kurt may not be able to respond immediately, Kurt does not schedule appointments via email or social media. To make an appointment, please call the studio at (419) 885-7153. If Kurt or Deb (his secretary) are unable to answer the phone, someone will call you back as soon as they become available.
Best of the Knot 2012
Kurt Nielsen Photography is proud to announce that Kurt has received The Best of the Knot 2012 pick for wedding photography in the local Toledo market. This is Kurt's second year advertising on The Knot and his second year in a row winning this prestigious award, as voted by local brides and grooms. Voting is done by writing reviews and rating the wedding vendors service on a scale of one to five. Brides, grooms, parents of the couple, and even members of the wedding party can write a review for Kurt or any wedding vendor. It can be a recent wedding, or a wedding that took place at any time (even years ago as long as Kurt photographed the wedding). The Knot then takes the reviews and ratings and determines the winners for each category. There are hundreds of wedding photographers in the local area with over 100 of them being listed on The Knot website. Reviews are a great way for brides and grooms-to-be to learn about local wedding vendors. If you would like to help tell future brides and grooms about Kurt Nielsen Photography and would like to write a review for Kurt, all you have to do is go to The Knot website and write your review for Kurt's services for your wedding. Thank you in advance for your support of Kurt Nielsen Photography!
2012 Wedding Wire Brides Choice Award Winner!
We are excited to announce that Kurt Nielsen Photography has won the Bride's Choice Awards 2012. This is the third straight year Kurt has won. This prestigious award is determined by reviews from your past clients and recognized the top 5 percent of local Wedding Professionals from the WeddingWire Network, which includes WeddingWire, Martha Stewart Weddings, Project Wedding, Wedding Bee, Wedding Aces and Celebrations.com.

"The WeddingWire Bride's Choice Awards recognized the top local wedding professionals from the WeddingWire Network that demonstrate excellence in quality, service, responsiveness and professionalism. Unlike other awards in which winners are selected by the organization, the Wedding Wire Bride's Choice Awards are awarded solely based on the reviews from over 1.2 million newlyweds. Awards are determined by a combination of four factors: Overall rating (quality), total number of reviews (quantity), review performance from 2011 (recency), and consistency of reviews from year to year (consistency). This year's recipients represent the top 5% of WeddingWire's vendor community, across all service categories and all regions throughout the US and Canada." (from WeddingWire.com)

Kurt is very honored and humbled that he has been awarded this prestigious honor and sincerely thanks the brides, grooms and mothers of the newlyweds who took time out of their busy schedules to write such awesome reviews to help him achieve this standing.
2012 Wedding Professionals Hot List from MomentVille.com
We are also excited to announce that Kurt Nielsen Photography has been named to MomentVille.com's 2012 Wedding Professionals Hot List for Wedding Photography in Toledo.

The annual Wedding Professional Hot List recognizes excellence within the wedding industry, as determined by reviews from tens of thousands of brides and grooms. Kurt Nielsen Photography was among the best reviewed vendors in the past year.

This is another great honor bestowed upon Kurt for his overall excellence in Wedding Photography in Northwest Ohio and Southeast Michigan.
Kurt Nielsen
Kurt Nielsen Photography
kurt@kurtnphoto.com
5431 Schultz Drive
Sylvania
,
OH
,
43560
419 885 7153
View and Sign My Guest Book!
Did you know that most photographers get their customers from other customers? These days, almost everyone uses the internet in order to shop for just about everything, including photographers. That's why so many business now have some sort of public comment source on their websites, including me. Please feel free to voice your opinions on my website by commenting in my guest book. You can write anything that you would like, but please keep it family friendly! Write about past experiences with Kurt Nielsen Photography, or even just to say hello. If you aren't a customer (or even if you are) and want to comment about my website or give suggestions on anything that I do, please feel free to let me know.
I also just added Google's PlusOne feature on some of my pages. You can only see it if you are signed into Google. This is another way in which Google helps small businesses like mine get found in the millions of websites that are out there. If you are a Google user and are signed in, feel free to PlusOne my site to help me get found!
Kurt Nielsen Photography
419 885 7153
Hours of Operation:
Monday 10am - 5pm
Tuesday 10am -5pm
Wednesday - closed
Thursday 10am - 5pm
Friday 10am -5pm
Saturday - closed
Sunday - closed
Weekend and Evening hours available by appointment only.
Kurt does everything by appointment only, so even though these are his posted hours, please call in advance to be sure someone is actually in the office when you get there because he may be out of the office or on location.
Kurt Nielsen Photography
kurt@kurtnphoto.com
5431 Schultz Drive
Sylvania

,

OH

43560
419 885 7153
Thank you for checking out Toledo Photographer - Kurt Nielsen Photography's November 2012 Newsletter!
For more information on any of our promotions or to schedule an appointment, call me at (419) 885-7153. Become a fan of Kurt Nielsen Photography on Facebook, Twitter or LinkedIn to keep up with the latest news!
So you like the things your friends got from somewhere else? Ask me if I can get the same or similar item for you.
� Kurt Nielsen Photography 2014 - ALL RIGHTS RESERVED